Ben's Ginger Organic Ginger Punch - 1 Liter (8% alc.)
100 new customers join the Ben's Ginger family every week. Be there too.
✅ Just 1 tablespoon will add that little extra magic to your food and it's full of healthy nutrients.
Regular price
Sale price
€15,95 EUR
Unit price
€15,95
per
l
Sale
Sold out
Delivered to you in 2-3 days
Beschreibung
ORGANIC ginger punch (8% vol.) - 1000ml

Bring some variety into the cold and warm season and try the ginger punch from Ben's Ginger -
Natural - Intense - Made from the whole ginger root.
Based on white wine and orange juice, this delicious punch refined with ginger concentrate from Ben's Ginger is an absolute discovery. Curious Get Ben's ginger punch and see for yourself! 

Enjoy with some ice cubes for the warm season.
Selected with love and made with passion
Based on white wine and orange juice
With Ben's Ginger organic ginger concentrate

Handmade in Holzkirchen near Munich

100% organic quality

Gentle preparation to preserve all nutrients

Versatile for cold and warm drinks
Alcoholic drink out : White wine*, orange juice*, Ben's Ginger* (water, 20% ginger*, raw cane sugar*, lemon juice*, lime juice*, almond syrup * from natural almond aroma), orange liqueur* (wine distillate*, sugar*, water, essence of bitter orange*, essence of orange*, caramel*), raw cane sugar*, water, alcohol*, spices*.
*From controlled organic cultivation. Contains sulphites*
Organic control body: DE-ÖKO-037
FAQ
<div id="ddshopfaq-wrapper"></div>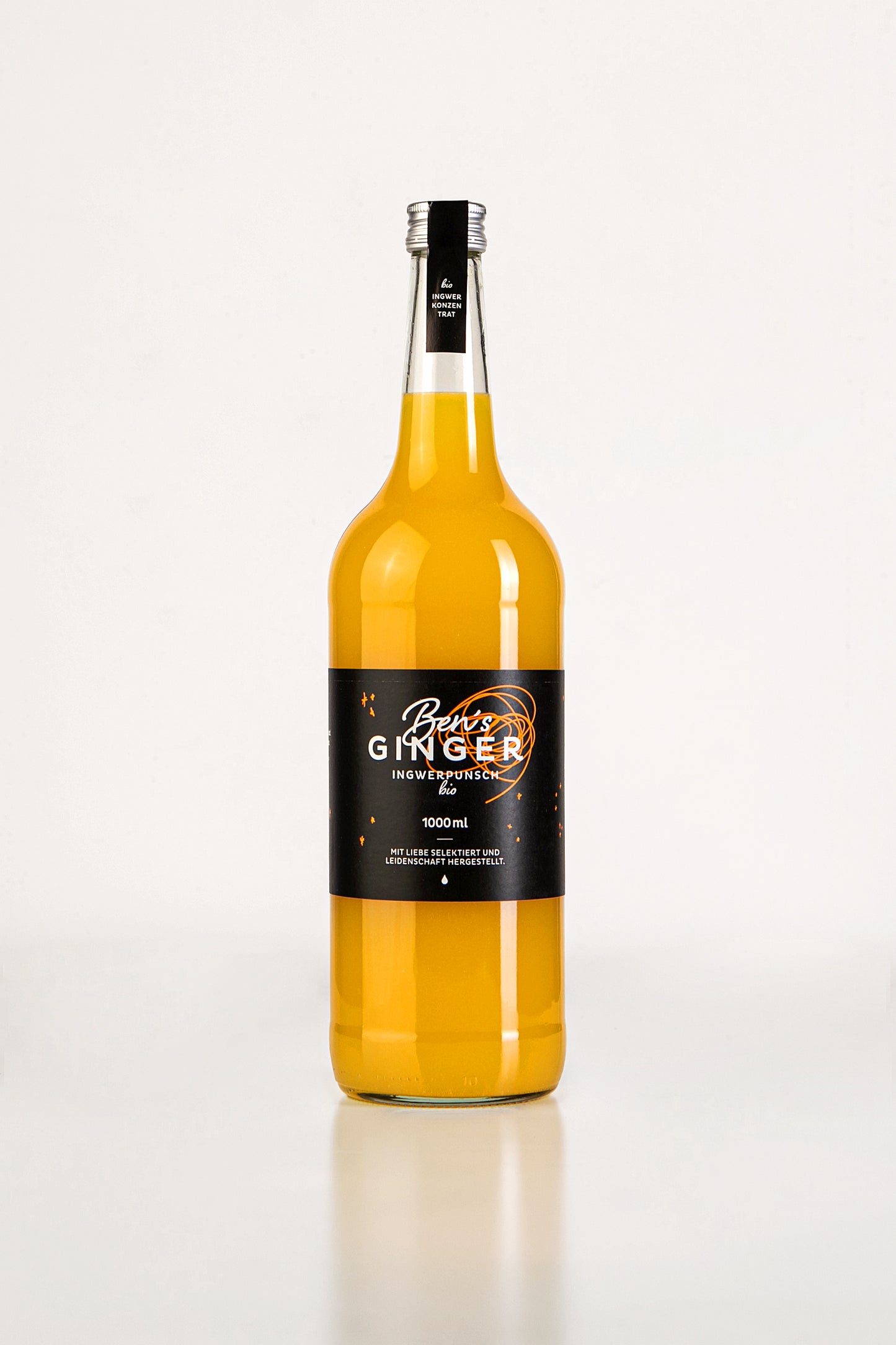 More product information
nutritional information

components

Water, ginger* (20%), lemon juice*, brown cane sugar*, lime juice*, almond syrup*
*Ingredients from organic farming

Instructions for use and storage

Store cool after opening

Shake well before use

Additional Mandatory Disclosures

DE-ÖKO-037
contains: almonds, nuts

nutritional information

Per 100 gram serving size:

- Energy: 189kJ/ 46 kcal

- Fat 0.1 grams

-> of which: Saturated Fatty Acids 0.1 grams

- Carbohydrates 10.7 grams

-> of which sugar 10.7 grams

- Protein: 0.4 grams

- Salt: 0.1 grams